MDM software
Caroline
Mobile Device Management
At Delfi Technologies, we offer MDM solutions that let you manage and control your devices centrally – without compromising on either security or the user experience.
MDM software provides central management of your organization's mobile devices with the ability to set up apps, settings and security. In this way, you can control all devices such as handheld terminals/PDAs, tablets, laptops and desktop computers as well as multiple operating systems such as Android, iOS, Windows, etc.
Avalanche
Enterprise Mobility Device Management
– to keep your workers and their devices at peak productivity!
We know how important mobile productivity is to your business – you have no time for downtime. Using Avalanche for MDM, your mobile devices are ready for today's and tomorrow's business demands. Whether scanners in the warehouse, or tablets on the retail floor, Avalanche helps maintain control of your most critical mobile deployments – keeping them secure, available, and accessible.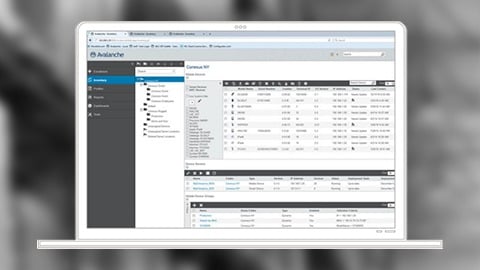 Android zero-touch
Seamless setup and deployment of corporate-owned devices
Configuring all your devices to match your needs, can be challenging and time-consuming. Android zero-touch makes it fast, easy and secure to set up all your devices. Create a default configuration, and avoid setting up all your devices manually. Delfi Technologies is official Android zero-touch partner.
Streamlined process – avoid user mistakes
Android zero-touch is a streamlined process for Android devices to be provisioned for enterprise management. Zero-touch enables you to setup all your devices the way you want them, without setting each device up manually or risk user mistakes.
Fast and easy configuration
With Android zero-touch you're guaranteed a fast and easy way to configure all your devices. With an online customer portal, you're able to make a seamless deployment method without spending unnecessary time. The portal allows you to create, edit and delete EMM (Enterprise Mobility Management) configurations. You're also able to set a default configuration for any devices added to zero-touch enrollment going forward. The account owner is also able to add, edit or delete users. By using the online customer portal, the risk of human errors is severely decreased.
Automated deployment
This means that Delfi Technologies can send Android units (with min. Android 8 Oreo) directly out to the customer – and once the units are connected via WAN or WiFi, the Android device will be set up with your settings and applications in a secure environment in no time. Dependency on internal IT support is severely reduced with the automated deployment. Even if a device needs to set back to defaults, has been for a repair or similar, it will be set up in no time the same way.
Zero-touch compatible devices
At Delfi Technologies we offer a large variety of Android units that are zero-touch compatible. Android zero-touch require a compatible device running Android Oreo (8.0) and an EMM. We at Delfi Technologies recommend using SOTI as an EMM.